On Sale
Z6 - Diamond Black
Description
Pulse Extraction Process (P.E.P.®) optimises extraction time to guarantee professional quality, barista-style coffee
Automatic switch over from milk to milk foam
Intelligent Water System (I.W.S) automatically detects the filter while the Claris Smart ensures perfect water quality
22 different products at the touch of a button
Two-cup illumination to put the finished result in the spotlight
Wireless Ready
Up to 40 cups per day
Water tank: 2.4 litres
32w x 37.5 h x 45 d cm
Premium enjoyment with professional technology
Full aroma thanks to the astonishingly quiet Professional Aroma Grinder, exceptional barista variety thanks to optimised fluid system and an operating concept that combines simplicity and intelligence – the new Z6 promises supreme coffee experiences.
The Professional Aroma Grinder delivers a consistently flawless grinding result, state-of-the-art brewing processes allow the coffee aromas to fully develop and trend specialities are prepared to perfection and topped with airy, feather-light milk foam thanks to fine foam technology. The Z6 impresses by offering 22 specialities at the touch of a button and its newly developed fluid system allows even long, delicious barista specialities and espresso doppio to be created in top barista quality.
Customer Reviews
Write a Review
Ask a Question
12 Nov 2021
Glenda D.

New Zealand
Jura Z6 - Diamond Black
We reviewed the current coffee experience and also the flow on effects for the environment - we like our coffee in the office so did a fair bit of research and settled on the Jura for a potential replacement. We were conscious that automatic machines don't always meet the standard of more manual versions but we have been really pleased with the choice. Garrick came in and set it all up and gave us the run down. It's a huge success with the team loving the ease of use, the great coffee beans and taste and also the ability to take the coffee dregs home to their gardens. We also got the milk cooler that sits alongside to give the team a bit more milk to be available during the day and this is a big success. The team have set up their coffees just how they like. We've sampled a couple of different beans as part of the offer and we hard pressed to choose. Total recommendation of the machine and the service!
15 Nov 2021
Fusion Coffee
Thank you so much for your awesome, insightful review. We totally agree with everything you have said and actually encourage our customers to do their research on all the other coffee machines available before purchase. This is something we did as a coffee roastery before embarking on this journey with Jura and have never looked back. We are so glad to hear how well your Jura coffee machine is seamlessly fitting into your workplace environment. Thank you SO much! Customer feedback like this is what we continuously strive for here at Fusion Coffee.
04 Nov 2021
Flowerday H.

New Zealand
Jura Z6 - Diamond Black
Our company looked at the financial and societal cost of using a pod machine and did the numbers on buying a Jura Z6. While the initial outlay is high, by the end of year 2 we will be making considerable financial savings by changing to a Super Auto coffee machine, and more importantly we are hugely reducing our landfill waste with our staff taking turns taking the grounds home for our gardens and compost bins. Be warned that coffee consumption in the office will hugely increase in the first couple of weeks while everyone tries the machine and comes back for more when they realise how good the coffee really is!!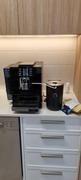 04 Nov 2021
Fusion Coffee
Wow thank you so much for your detailed rating of your Jura Z6 coffee machine! We are so happy you are reaping the benefits - not only on a premium coffee taste level - but also on a sustainable level. Absolutely over the moon to hear how much you are getting out of this machine. Thank you so much for choosing us - we will strive to continue to deliver excellence for you and the team.
Z6
I was looking for a manual coffee machine and ended up instead with the Z6. I thought an automatic machine would be a compromise but was pleasantly surprised. I can set up the machine to make my flat white exactly as I like it. Far easier to maintain and keep the kitchen clean with this machine.
18 Oct 2021
Fusion Coffee
Thank you so much for your feedback Craig! We totally agree with you for both points; in terms of keeping the kitchen tidy and for being pleasantly surprised with the end coffee result out of these machines.