On Sale
Matakana
Matakana is our local barrier-island that protects our harbour from the Pacific Ocean. Our Matakana blend is roasted fresh here in Mount Maunganui, Tauranga and has smooth hints of rich chocolate, vanilla and spiced apple notes which mirrors the fruitful climate of this island.

Matakana is the darkest roast we offer and is for those seeking a smooth, warm me up coffee which is ideal for black and white espresso-based drinks as well as for plunger. 

We highly recommend using this blend in your Jura Super-Automatic coffee machine as the dark chocolate notes result in a smooth delicious tasting coffee every time!
Use the discount code FREESHIPPING at check out to get free shipping on all subscription orders.
Customer Reviews
Write a Review
Ask a Question
15 Oct 2021
Steve &.

New Zealand
Matakana
A strong brew that suits our tastes. We occasionally try another roast but always return to Matakana.
18 Oct 2021
Fusion Coffee
Thank you so much for your support and feedback! The smooth dark chocolate notes of the Matakana are hard to resist! =D
15 Oct 2021
Phill R.

New Zealand
On Line Purchase of FUSION MATAKANA Coffee Beans
Very easy deal and the product arrived promptly and in good order - even had a Locally Made CHOCOLATE BAR enclosed!! YUMMY too - both products!! RECOMENDED! Thank you FUSION.
18 Oct 2021
Fusion Coffee
Thank you Phill! You are obviously making full use of our Solomons Gold Spring/Summer promotion - how good is that chocolate?! Appreciate your support so much - thank you!
15 Oct 2021
Tom G.

New Zealand
Home Delivery
The coffee is fantastic, but the delivery can take 4 days to travel about 10kms
18 Oct 2021
Fusion Coffee
Thank you so much for your comments on our coffee! We are sorry about the delay in your delivery. Unfortunately when shipments leave our roastery we are at the mercy of our couriers to get it to your door as soon as possible. We have noted this delay and will pass your feedback onto our couriers.
15 Oct 2021
Pacific S.

New Zealand
The best coffee bought from Fusion thus far and we have been buying since 2014
Everyone loves the coffee but they are always looking for something stronger :-)?
18 Oct 2021
Fusion Coffee
Thank you so much for your awesome review of us! There are two solutions to giving your team stronger coffee: Solution a) - More coffee per dose (serving). A great example is plunger coffee where customers think that leaving the coffee to brew for longer will result in a stronger coffee. Where there is some truth to the length of time of extraction it is ACTUALLY down to MORE coffee for serving for a stronger coffee. Try dosing more coffee per serving if you want it to be stronger. Solution b) Should you still not be getting the strength in the taste of the coffee then it may be that the blend is not right for what you're searching for. We would recommend trying our Arataki coffee blend as that is by far our strongest tasting coffee. Hope these options help you with your stronger tasting coffees!
15 Oct 2021
James (.

New Zealand
Matakane Coffee
We find this coffee to be a rich tasting and extremely good flavor. Certianely top of our list Jim and Margaret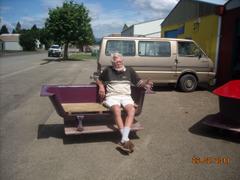 18 Oct 2021
Fusion Coffee
Thank you so much Jim and Margaret for your kind words and your epic photo. It looks like you've made good use of that old bath. We feel very humbled to be at the top of your coffee list! <3